NEW BLÜCHER® Art Deco Shower Channel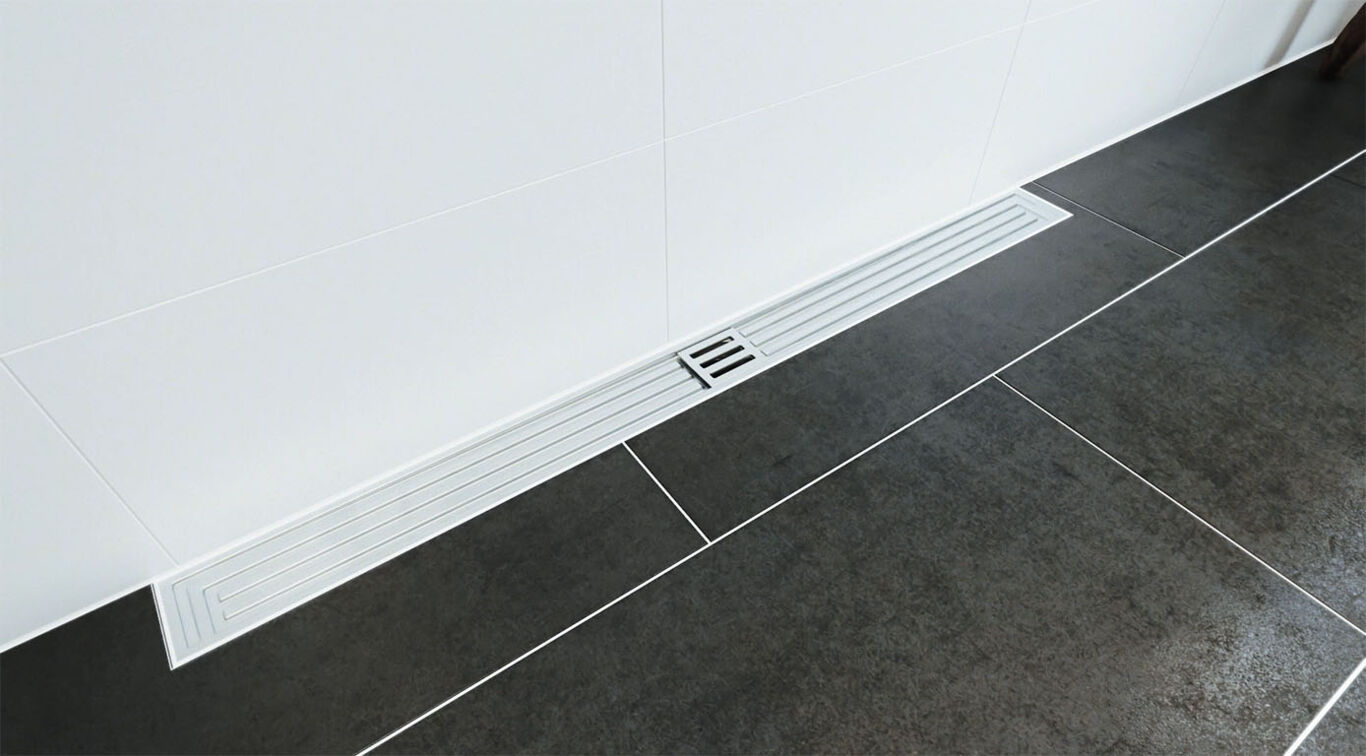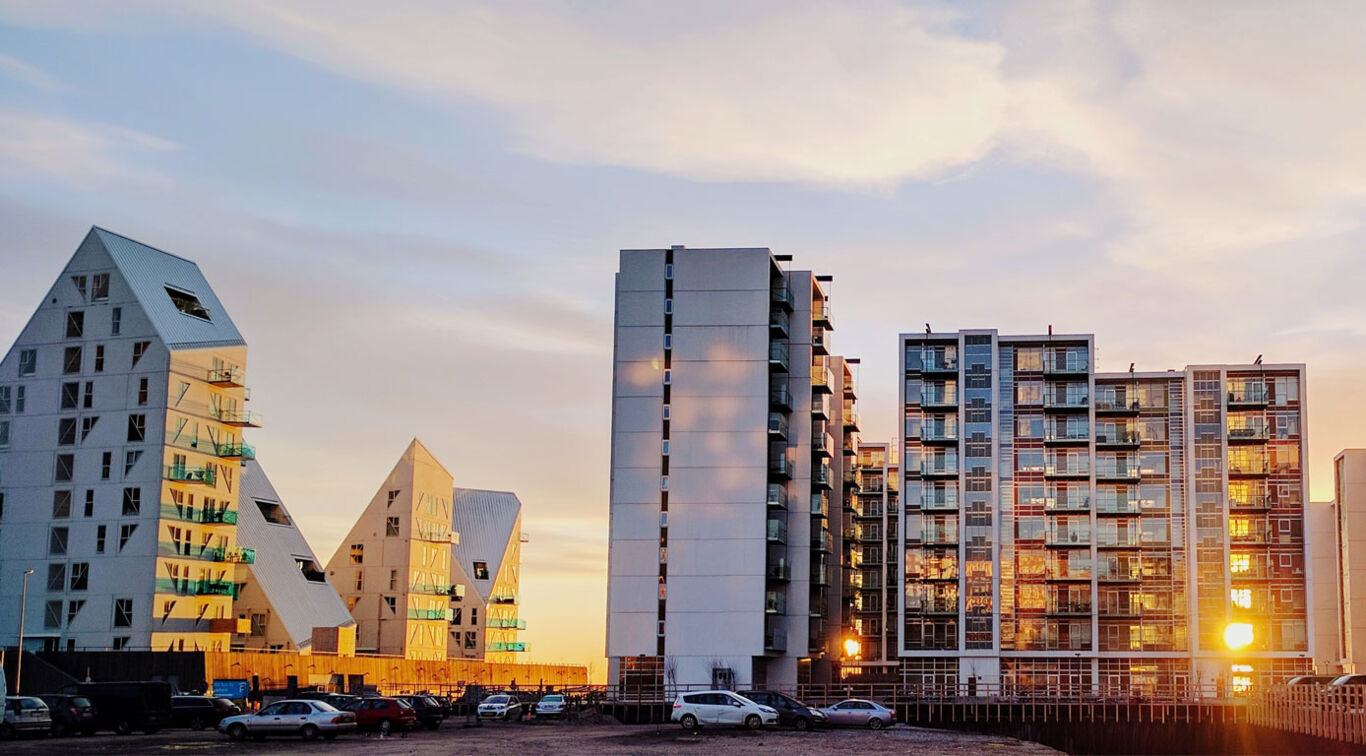 Trendy and Fashionable Looking Shower Channels
Intended both for new builds and renovation for single-family housing, blocks of flats, and commercial buildings, Art Deco shower channels are the perfect match as the design gives personal style to the bathroom.
Its design is the result of meticulous care and innovation, and in its expression it takes us back in time to the pressed steel sinks, but transferred into the present and with stringent, timeless design.

And Art Deco is innovative in more ways than its design. This applies not least to its ease of use for those who clean the bathroom and for those who install the shower channel as the necessary routines and processes are very simple and easy.
Art Deco Shower Channels
Easy maintenance and cleaning

Easy and fast installation

Easy to stock - "One size fits all"

Easy to specify - BIM objects available
Choose your Art Deco style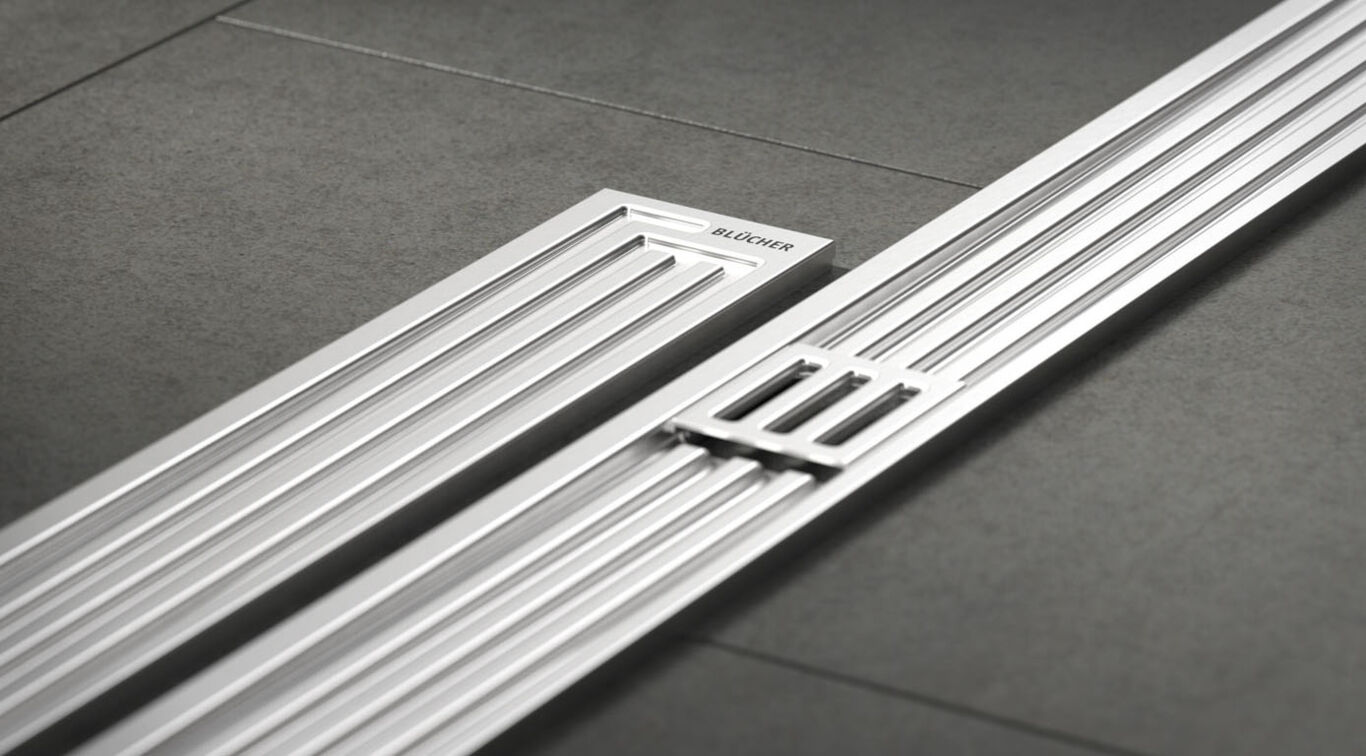 Art Deco Steel
Do you prefer a minimalistic and classic expression in your bathroom? This timeless design simply fits in everywhere.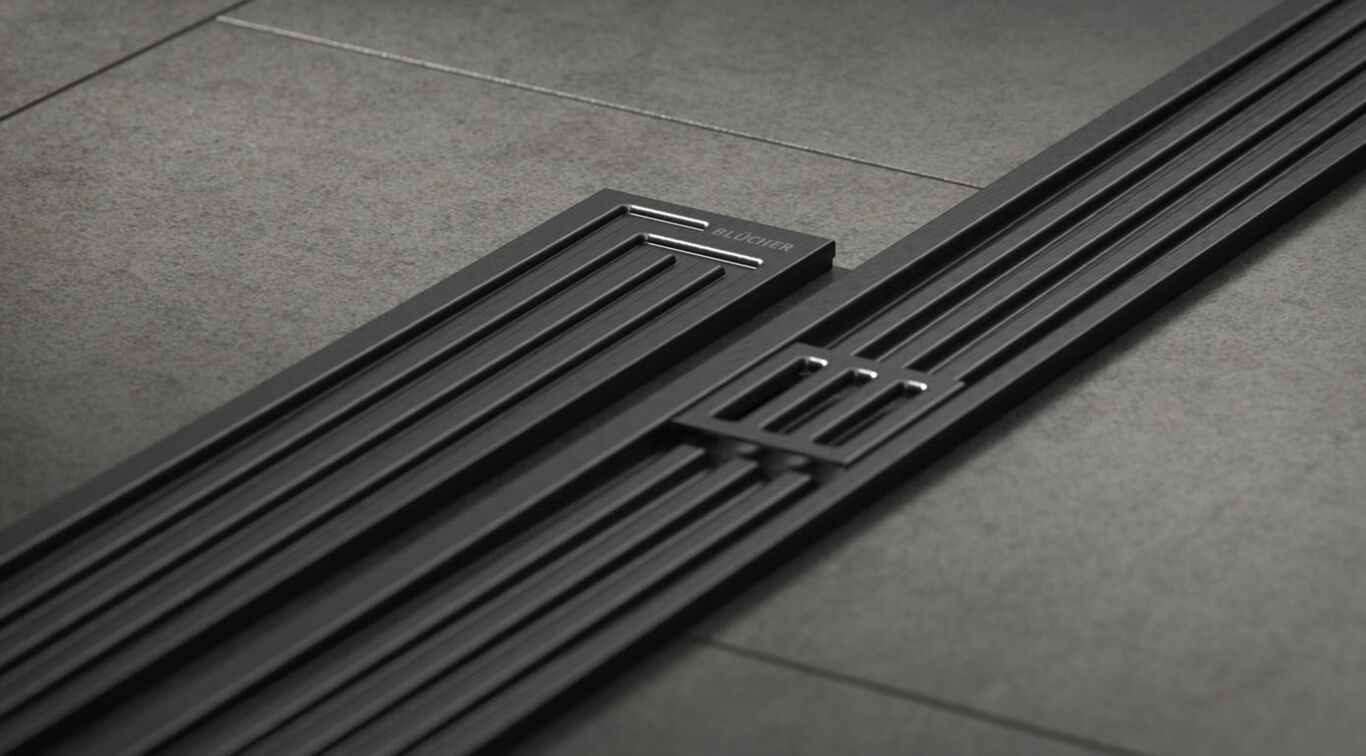 Art Deco Black*
With Art Deco Black you add a trendsetting and modern look to the bathroom.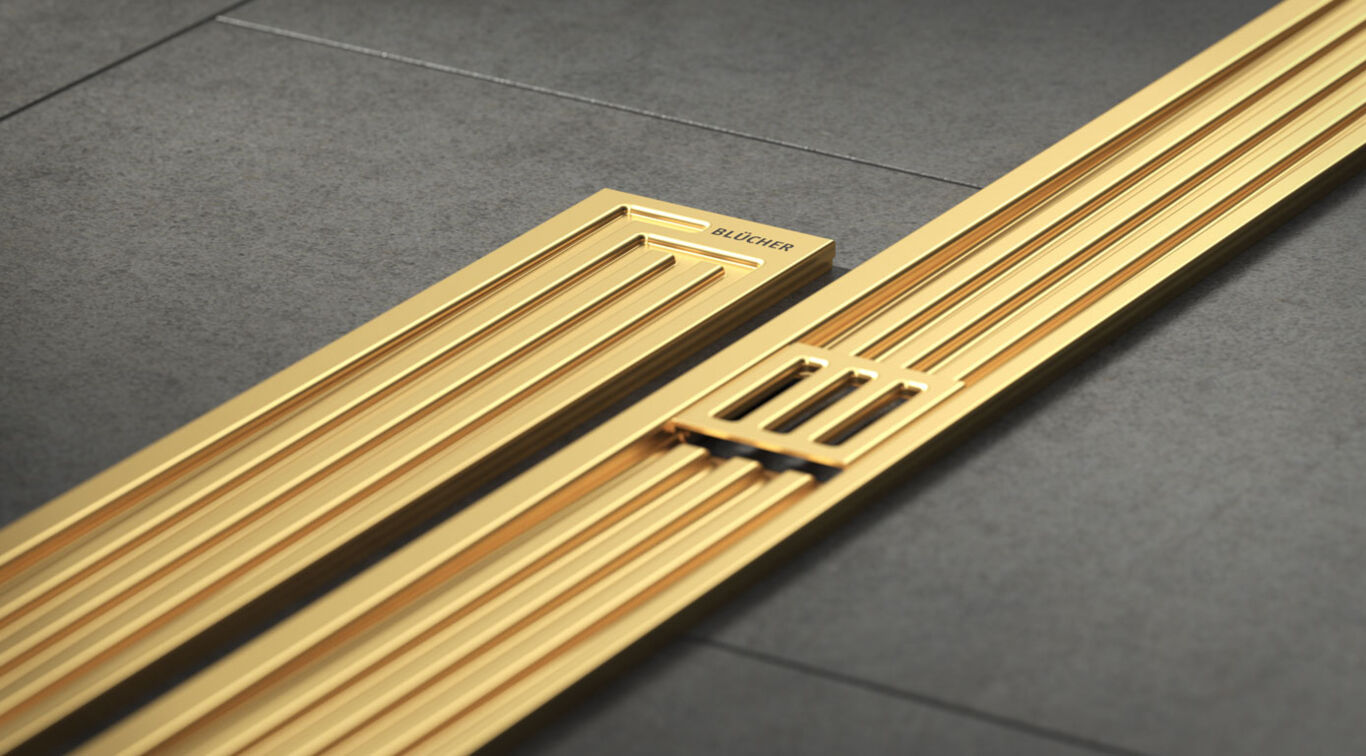 Art Deco Brass*
With this courageous choice of shower channel you are not afraid of adding an outstanding and stylish look to the bathroom. Here you have the chance to get a unique personal style.
*Please contact BLÜCHER for delivery time.
Easy Installation of BLÜCHER® Art Deco Shower Channel
All you need to know is the desired height of flooring, and then the wall flange with the lower part can be fixed at the desired height. When the outlet pipe has been fitted, cast concrete up to the flange. Now the lower part has been cast into the floor, and the rectangular pressed stainless steel plate can be installed onto the lower part and adjusted in height to match water proofing and tiling. Finally, finish the joints around the shower channel to secure it in the floor.
Easy Maintenance and Cleaning of BLÜCHER® Art Deco Shower Channel
You do not have to lift a long grating from the floor for cleaning. Art Deco has just a small cover that can be removed and rinsed under the tap, and the channel is clean and ready for use again.

See maintenance manual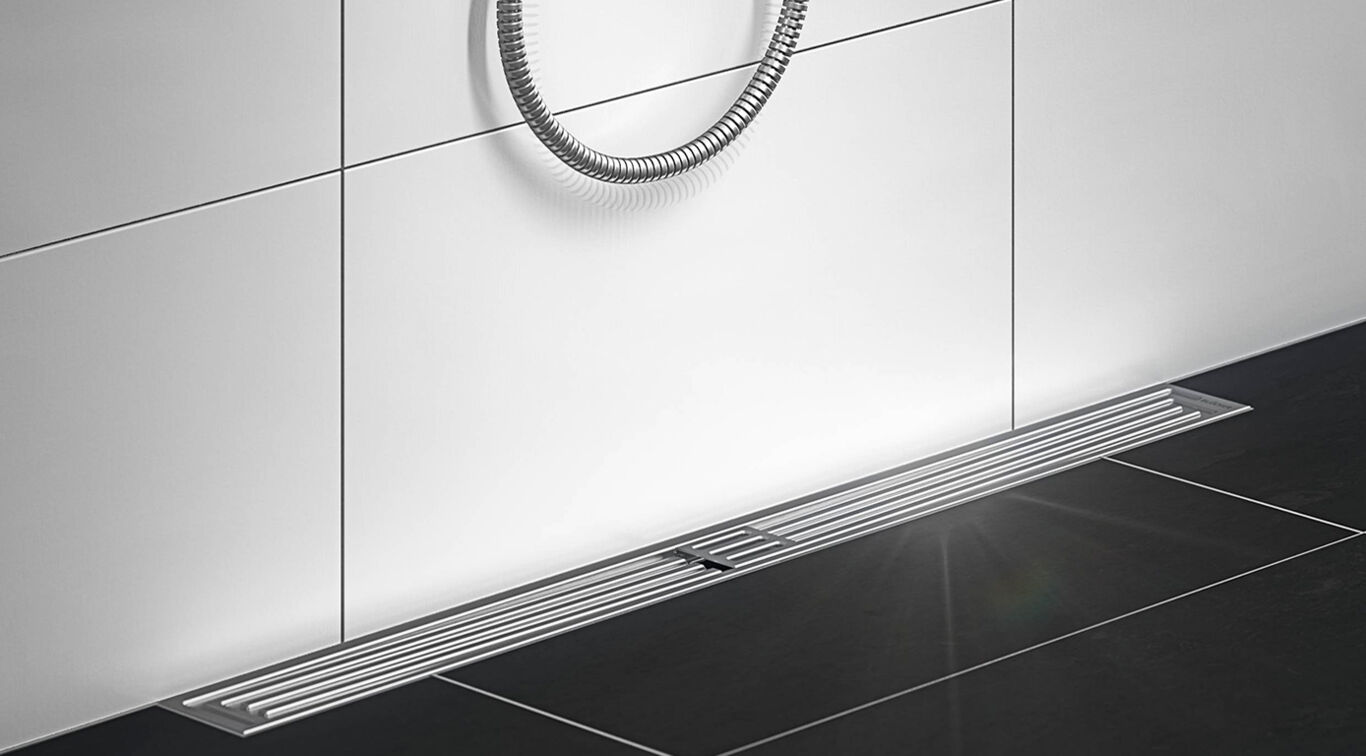 Art Deco
Find your Art Deco shower channel and accessories.
Browse products
How To Buy
Find local distributors that sell BLÜCHER products and accessories.
Find your local Sales Representative for any BLÜCHER product and accessory questions, support or to get a quote.
Homeowner? Sorry, BLÜCHER sales representatives do not sell directly to consumers. Please see your local retailer.